Becoming a Nurse Practitioner 
In this blog, I will be sharing my journey of becoming a nurse practitioner in California. If you didn't know, I have been a registered nurse for eight years and, before that, a certified nursing assistant for four years.
After nursing school, I got my BSN at Cleveland State University and started a full-time job as an RN in a Critical Care unit. The unit I worked in was considered medical, surgery, trauma, and some cardiac.
After a year and a half of working there full-time, I took a travel assignment to become a travel nurse. And shortly after, joining the nursing Program at Azusa Pacific University to become a nurse practitioner.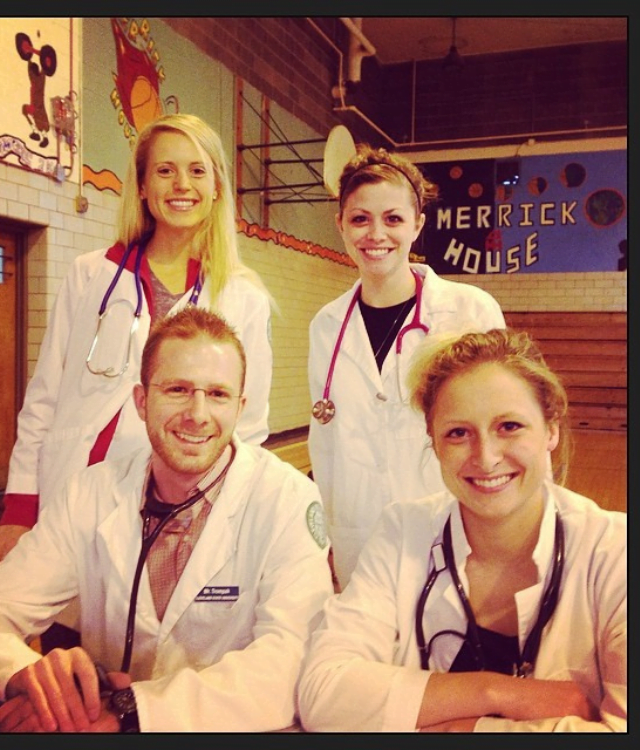 What is a Nurse Practitioner and How to Become One?
Nurse practitioners (NPs) have achieved a master's degree, allowing them to further their careers. Depending on individual state laws nurse practioners are authorized healthcare practitioners. What I mean by individual state laws is that each state has a different state practice environment for nurse practitioners, so it is definite to know your regulations per state.
When I get asked what a nurse practitioner is, I describe it as a provider or a doctor. (Other people may disagree this is the best term, but to the population or those unaware, I feel this is the best way they can grasp the concept.
Nurse Practitioner Roles Include and Can Vary by State:
Detailed patient examinations.
Documenting patient's assessment.
Recording patient's medical history.
Ordering lab tests or diagnostic procedures.
Ordering medications.
Creating and implementing treatment plans.
The Journey of Becoming a Nurse Practioner
One must first complete nursing school with a Bachelor of Science in Nursing and then take the NLEX exam to become a licensed registered nurse. Typically but not always after obtaining a BSN, before going on to advanced practice, they will work as a registered nurse and get familiar with different specialties. Nursing has many, many different career opportunities, including the hospital, homecare, nursing homes, clinical, primary care, labor and delivery, emergency room, surgical nurse, nurse educator, nurse manager, behavioral health nurse, and the list can go on.
I highly recommend getting your feet wet after nursing school and working in a hospital setting for a little bit! I believe most of my nurse friends would agree with me but grasping the basics provided me the opportunity to really understand and comprehend critical thinking.
After obtaining a bachelor's degree, the next step is a Master of Science in Nursing (MSN) program. There are many different programs one can go through online or in person but depending on becoming a nurse practitioner, each program is different from one another and typically takes another 2-3 years of schooling.
After obtaining a degree, one in a specific specialist, one would take a certification exam to obtain their license.
Different Types of Nurse Practitioners and Their Roles
There are many different types of nurse practitioners and different roles, including:
Family Nurse Practitioner:
FNPs are very versatile in what they can do. The FNP degree specialization gives one the ability to provide medical care to individuals of all ages. That includes children! While many FNPs have positions in family medical centers, you can earn additional certification and gain expertise in specific fields such as women's health or diabetes.
Adult-Gerontology Nurse Practitioners:
A-GNPs are qualified to practice in primary care unless they have taken extra courses and had medical training that would qualify them to take the acute care accreditation test. Commonly, A-GNPs work in outpatient clinics giving primary care to adults. 
Adult-Gerontology Acute Care Nurse Practitioner:
A-GNCPs are similar to A-GNPS and typically have different exam licensure based on state and work more profoundly in acute care settings, including emergency rooms, critical care, hospitals, etc.
Psychiatric Mental Health Nurse Practitioners:
PMHNPs are those who care for individuals with mental health issues across all ages. They provide therapy and prescribe medications to those with mental health illnesses and/or substance and addiction issues. PMHNPs are frequently employed in private practice settings. However, PMHNP can also be part of healthcare organizations at hospitals, correctional institutions, military facilities, schools, and other establishments where a mental health professional may need to be available.
Women's Health Nurse Practitioners:
WHNPs can work with individuals from their teenage years to the end of life. The main area of expertise is women's health, including obstetrics and gynecology, but I also gained knowledge in primary care.
Pediatric Nurse Practitioners PNPs:
PNPs provide care to babies, kids, and young adults up to age 21. Typically work in primary care settings and undertake many of the same tasks as family nurse practitioners.
The list above is just some of the different types of nurse practitioners. There are also more than those listed above and different routes to take after your bachelor's, becoming a Certified Registered Nurse Anesthetists (CRNA) or master in health care administrator. Honestly, I love how nursing has soo much variety.
Which One is Right for You?
I have found that the job becomes more accessible and more enjoyable when you like what you are doing. This is especially true in nursing because it's such a demanding profession. It can be difficult to stay positive and motivated if you don't enjoy your work. So take advantage of your clinical rotations and discover what specialty speaks to you the most.
And honestly, working and getting my feet wet really taught me more than any of the courses I took or clinical I completed!
So defiantly recommend after becoming a nurse, you work in a few areas, and maybe before you become a nurse starts as a nursing assistant and see what specialty you like.
My Nursing Background
So in my career, I worked for years in critical care, step-down units, emergency departments, etc. But what really resonated with me was the physical illness of individuals and those who suffered from addiction and mental health issues.
For example, I had many patients come through who attempted to commit suicide, cut themselves, overdose, or others who struggled with addiction, drinking, and driving, etc. And these are the individuals I really started to become close to my heart.
After patients are considered medically stable, they may go to a psychiatric unit. So this is when I decide to take a break from the hospital side of nursing and work in a psychiatric unit.
In a psychiatric unit, patients are medically stable but have not recovered or stabilized to the point where they can be released back into the community.
Medically stable referees to an individual with vital signs within normal limits according to their baseline do not show any indications of an illness or injury requiring urgent medical care.
I worked in a psychiatric unit and learned more about mental disorders like schizophrenia, mood disorders, bipolar disorder, disruptive behavior, and dissociative disorders. ( and yes, I did learn about these in nursing school, but I was taking a deeper dive). And this is when I started to open up, listen to stories and educate myself and the beauty that medication can truly help individuals.
Disclaimer: I do not believe medication fixes everything and don't believe in starting everyone who feels depression or anxiety, etc.. on medications.
I believe that it is a case-by-case situation, and if it can help improve one's quality of life then it should be a part of their treatment plan.
So when I decided I wanted to help individuals with mental health, I decided to look into different schools in my area.
My Nursing Journey Continued in 2019
At this time, I stopped travel nursing when taking a job in the psychiatric unit and became a full-time staff nurse. So I was looking for a program that offered in-person schooling. Personally, I prefer in-person. I feel as though I learn better and feel more connected with others.
And one of the biggest blessings when getting my bachelor's was my nursing student friends to help me survive and be study partners because nursing school is no joke and one of the hardest bachelor's degrees to obtain! 
Although during my master's program, we hit the Coronavirus pandemic, which unfortunately set me back, and most things ended up being online anyways! I worked as nurse caring for patients with COVID 19 through the pandemic.
With that being said, I graduated in May 2022 with a degree in Masters Science of Nursing (MSN) and a specialty as a Psychiatric Mental Health Nurse Practitioner. In Mid-July 2022 I took the Psychiatric-Mental Health Nurse Practitioner (Across the Lifespan) Certification (PMHNP-BC™) through the American Nurses Credentialing Center(ANCC) and passed!
Things You Should Know Before Becoming a Nurse Practitioner
1. Understand the Scope of Practice for Nurse Practitioners
Each state has a different scope of practice for nurse practitioners, and the scope of practice will determine what types of patients you can see and the treatments you can provide. It is important to research the requirements in your particular state before making any decisions about becoming a nurse practitioner.
2. Educational Requirements
Becoming a nurse practitioner requires a significant amount of education. Becoming a nurse practitioner requires the completion of an advanced degree, such as a master's or doctorate, as well as additional coursework and clinical experience beyond what is required for registered nurses, which is a big time commitment.
3. Cost
Pursuing an advanced clinical degree, such as Nurse Practitioner, can be expensive due to tuition and other associated costs like textbooks, study materials, clinical supplies, and examination fees. It is important to research the cost of each program you are considering before making your decision.
4. Understand Licensing Requirements in Your State
Nurse Practitioners must be certified through an accredited certifying body in order to practice in most states, and some specialties require additional certification exams beyond the initial NP exam. This can be an added expense!!! And can get pricy! In addition to meeting educational and certification requirements, each state has its own licensing requirements that must be met in order to become a practicing NP, including background checks, fingerprinting, and continuing education credits. ( Again gets expensive)
5. Know Potential Job Opportunities & Salary Expectations
As with any profession, there are many different career paths available for NPs depending on their areas of specialization, location, and other factors such as employer preferences or availability of positions in certain areas. Definitely do your research, and to be honest, some registered nurses with a bachelor's degree can obtain the same salary as a nurse practitioner varies from state to state and different nursing careers.