Check out how to get paid to shop with a few extra clicks!
Tis the season to be shopping! (Online shopping that is!) Especially with the year 2020 and coronavirus, I'm sure online shopping will be very popular.
I absolutely love shopping, especially during the holidays… I may have a bit of an addiction…so why not get PAID to shop. 
Some of the most famous sale days coming up include:
Thanksgiving November 25
Black Friday, November 26
Small Business Saturday, November 27
Cyber Monday, November 29
Green Monday, December 13 (less than 2 weeks til Christmas)
Super Saturday, December 18 (One week Til Christmas)
Boxing Day, December 26
Since there will be plenty of opportunities to shop, I recommend you download the liketoknow.it app.
This is a completely FREE app, sign up for an account and FOLLOW me  I will be sharing the best of sales, fashion, affordable finds, AND items actually on sale and worth all the hustle and bustle. Also, I share my outfits, beauty, style, and home décor.  
Disclaimer I do make a small amount of commission if you shop through my link. 
A great way to get paid to shop is through a few websites I want to mention that are great for offer deals and cashback.
The first is RAKUTEN I actually heard about this through an old coworker friend of mine, who loves to shop online as I do. It's super easy!  Basically, you will make a free account on Rakuten and then type in any store you plan to shop from… NOT all stores are on there.. and NO amazon is not. But many other great options. Once on the site, you will search for the store and it will have a percentage in number.  Meaning that you will be X amount of percentage back that you spend.
For example, American Eagle as seen in the screenshot below shows 5 percent cash-back. So basically, if you spent 100 dollars at American Eagle you would get 5 dollars. It may not seem like a lot but it adds up.
ALSO, this website still lets you use coupon or promo codes with the cashback option!
After clicking through Rakuten's link it will redirect you to the website. And from there it's pretty simple. Go ahead and shop. After your order, you'll typically get an email or notification saying your cash=back is on its way!  Now you won't get paid right away but in about are 4 months (quarterly) they will disrupte payments, whether an actual check or PayPal.
My first two years shopping online through Rakuten (formerly called Ebates) I made 200 dollars… I'm telling you the money adds up! And this money is no strings attached. and an extra bonus. So, if you plan on shopping online during the holiday anyways… take a second to do a few more clicks and get some extra cash.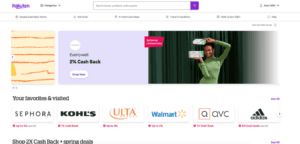 ANOTHER GREAT WAY TO GET PAID TO SHOP ONLINE
A great tool I like to use is called Honey. Maybe you have heard of it. It also a great tool that offers cashback options; also, what I really love is they have what they call a DROPLIST!
what's a drop list?
This is basically a shopping list. Honey makes a list and help you to track and record when the price changes or if the price increases or decreases! So why not use this as a way to save money while getting paid to shop.
They also offer gift cards to a variety of places for a discounted price! In addition, they do offer some percentage back similar to Rakuten's, however, it is typically for gift cards, not direct cash.
So these are two Rakuten and Honey are both great resources to use during the holidays and actually shopping all year round! I love an extra deal or savings!
And I want to mention HONEY is a great tool to use on AMAZON it can give you tracking of the pricing history.
Obviously, Amazon is one of my favorite places to shop! And we are spoiled with prime shipping! I always update my storefront with some of my favorite items, fashion, home, office, kitchen, and more! Be sure to check it out!