Stop spending on expensive beauty products, and start saving! Find the perfect drugstore dupe for your favorite high-end products! Makeup beauty products can be expensive and out of reach for some people. But, you don't have to sacrifice quality for affordability. You can find drugstore beauty finds that are just as good as their high-end counterparts but for a fraction of the price.
Highlighters
Makeup highlighters can be used to give a natural, luminous glow to your skin. They come in various forms, such as creams, liquids, and powders. Cream and liquid highlighters are best for adding subtle dewiness to the skin, while powdered highlighters are best for adding a bolder glow or a more intense highlight.
This cream highlighter provides a beautiful, rosy pink flush that's perfect for any special occasion. The high-pigment formula will leave you glowing for hours with a flawless finish. With one swipe, you'll be able to add a kiss of color to your cheeks and face, and you'll be sure to make a striking statement! But when this expensive option comes in at $42.00, you can get almost identical using the Makeup Revolution Bright Light Highlighter in color divine dark pink for only $10.00.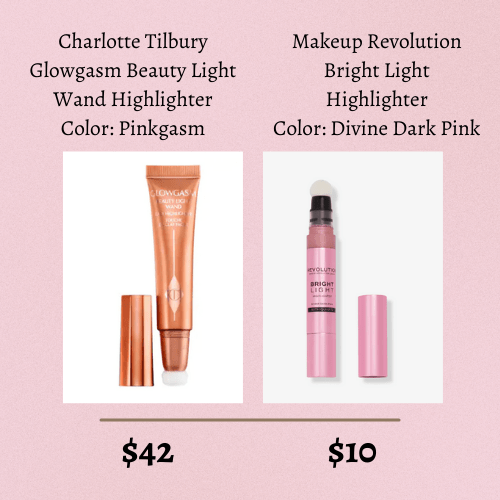 The Powder highlighter Hourglass Ambient Lighting Powder (Color: Ethereal Light)
This highlighter powder is designed to capture, diffuse and soften surrounding light with groundbreaking Photoluminescent Technology. The highlighter is an opalescent sheer, cool white powder that mimics a moonlit glow even in broad daylight. This highlighter has a hefty price tag of $54.00, but the Essence Pure Nude Highlighter in Off-White color works is a definite dupe and only $5.00.
Bronzer
Powder or cream bronzers instantly warm up the complexion and give a classic bronzed look. Bronzers are an easy way to achieve a natural sun-kissed tan, boost your color, and give you that summer glow – even on those overcast days!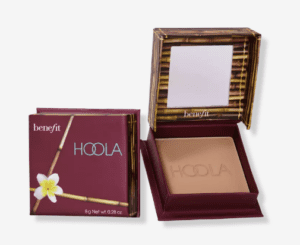 Lightweight powder bronzer comes in 4 shades that are perfect for giving a sun-kissed look, but I love the regular medium shade one. These instantly warm up your complexion and looks most natural when applied to the areas the sun would usually hit. I recommend putting on the apples of your cheeks, the bridge of your nose, and the top of your forehead for a natural, sun-kissed glow that never looks fake or overdone.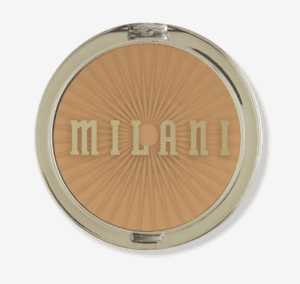 Definitely, a dupe is the  Milani Silky Matte Bronzing Powder luxuriously soft and feathery feel adheres to the skin without smudging, while nutrient-rich Argan Oil works to reduce signs of aging and prolongs the duration of makeup.  The color sunlight is the perfect dupe for the Hoola Matte Powder for only 12 dollars!
The famous Charlotte Tilbury Hollywood Contour Wand comes in two shades, Light to Medium or Medium to Dark, for $42. This is the perfect lightweight, blendable, and buildable formula to create a well-contoured face; with its unique cushion applicator, you can dispense the product evenly. This cream bronzer wand helps by creating shadows and defining features for a natural finish. However, this high-end makeup product always seems to be out of stock!  So let's talk about some Charlotte Tilbury Contour Wand dupes.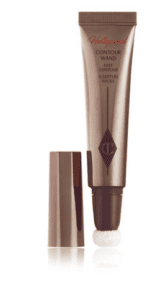 A recently launched new product is the Tarte Sculpt Tape Contour Wand, which comes in five different shades, compared to the Charlotte Tilbury Wand, which only comes in two shades. The product has an identical applicator, making it super easy to apply. exactly where you need it. Makeup artists recommend using bronzer, a makeup sponge, or a makeup brush to blend the cream bronzer with the point of the applicator and then lightly stipple or dab onto your face—starting at the sides of your forehead, down your cheekbones, and along your jawline. To finish off, blend out with either a makeup sponge or a brush. The Tarte Sculpt Tape Wand is still a pricey product at $35 each!
The Milani Conceal & Perfect Face Lift Collection Liquid Contour is a true drugstore makeup product that comes in four different shades for only $12! This product features a similar cushion-like applicator tip that facilitates effortless sculpting and accentuating one's cheekbones to create definition and dimension. The lightweight formula works just as well as the luxury beauty brands; it quickly blends and builds for a seamless, even finish that will stay put all day.