I'm sharing with you my three beauty secrets that I use every day as a nurse. Now, I will be honest… I never wear much makeup to work in general. And now, with Coronavirus everyone is wearing a MASK; you typically can't see over half your face anyway.
1. Mascara
Mascara will not last without a good primer.
One of the essentials of makeup for nurses is mascara. However, mascara will not last without a good primer.
As healthcare workers occupied for over 12 hours a day, we need to have a good mascara that will last. I have found that whatever mascara I do use, it always is more effective with a primer.
I have two favorites: one drugstore and one higher end.
L'Oréal Voluminous Lash Primer 

Marc Jacobs Velvet Lash Primer
2. Chapstick
Working long hours, of course, you need an excellent chapstick. I know there are plenty of great ones out there. I would recommend having a "stick" option compared to one you dip your finger in, especially at work. I also recommend a chapstick holder! Yes, I know it sounds funny. But I actually got this little keychain chapstick holder as a gift, and I LOVE IT. It's perfect because how often do you put chapstick in your pocket to lose it?! All the time!!! This way you can attach the ring to your work badge or side of your nursing bag, and it's easy to access!
These are some of my favorite chapsticks – check them out:
BURT'S BEES LIP BALM: PINK GRAPEFRUIT 

CHAPSTICK BRAND
(I love these brands because they have SPF in them) –
Why can't Burt put SPF in his pink grapefruit Chapstick?
3. A good face moisturizer
Have you heard of TULA skincare?
Now maybe you have never heard of TULA skincare before or you have seen that all the bloggers and influencers are talking about it! With so many people talking about it and sharing discount codes, I was at first hesitant to try!
But currently, I'm hooked on this stuff – Daily Sunscreen Gel Broad Spectrum SPF 30!
This everyday moisturizer has UVA & UVB protection, so it's not only protecting you from the sun but also the blue light from computer and phone screens. This moisturizer has a bit of glow, which I think can compliment anyone.

Now I understand why everyone on Instagram is raving about how good this stuff is. As healthcare providers, we work long shifts; we need something that can last and also super lightweight on our skin!


If you're a first time user you can sign up and receive a 15 % off discount!


I wear these three beauty faves every day, and I especially love them for the days I work. I don't wear makeup to work… and how can you?? Everyone is wearing a mask the whole time… lols.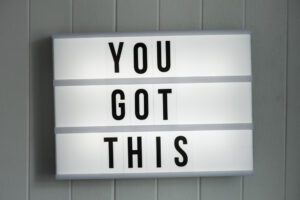 In a world full of challenges and uncertainties, it is essential to find ways to nurture our minds and souls. One powerful tool that can help in this process is positive affirmations. Positive affirmations are statements that are repeated to oneself in order to instill a sense of positivity and self-belief. By integrating these affirmations into our daily lives, we can cultivate a mindset of self-care and resilience.At its core, positive affirmations are about harnessing the power of our thoughts and words to shape our reality. When we repeatedly affirm positive statements about ourselves and our abilities, we train our
Read More »
Biggest makeup trends by season As each season rolls around, it brings with it a fresh wave of beauty trends, allowing makeup enthusiasts to express their creativity and celebrate the essence of that particular time of year. From bold, vibrant colors in the summer to warm, earthy tones in the fall, these seasonal makeup trends offer endless inspiration for creating stunning looks. In this ultimate guide, we explore the must-try makeup trends for each season and recommend products to help you achieve them flawlessly. Whether you prefer a natural and dewy look in the spring or a glamorous and smoky
Read More »
When it comes to fashion, there is no one-size-fits-all approach. Each of us has a unique body shape, and understanding how to dress for our specific body type can significantly affect how we look and feel in our clothes. Whether you have an hourglass figure, a pear-shaped body, an athletic build, or any other different body type, learning to accentuate your best features and embrace your individuality is the key to unlocking your style. Dressing for your body Dressing for your body type is key to enhancing your best features and feeling confident in your clothes. Whether you have an
Read More »