Some Nurse Work Bag Essentials To Have on You At All Times
If you're a nurse, having the right supplies in your nurse bag is essential for providing quality patient care. Having the right work essentials on hand can help you stay organized and prepared for anything that may come your way. But what are the essential items every nurse should have in their bag?
I will share my work nurse bag essentials and why they're important. So let's take a closer look at what every nurse should have in their work bag!
I want to share some of my favorite bags for nursing! I think by far my favorite is a bookbag style it's easy to carry, and comfortable with your ability to carry more things walking into work whether it is your lunchbox and/or coffee! If you want a bag or a tote that also has an easy-to-clean material, I recommend starting away from a cotton bag but something somewhat. Waterproof material that you can wipe off if something gets on it!
Essential Items
1. Pen/Pencil; Something to write with, maybe a couple of extras! Especially because I am always the one to lose my pen. Typically I will leave it sitting on a desk or computer, or it will be in my pocket, and I can't find it! Always have extra stashed in your bag! ( some people may like a clipboard too) 
2. Water bottle; Top priority is to stay hydrated during a shift! I like to bring my hydro flask so my water stays cold throughout the change.
3. Advil/Motrin/Painkillers; No, I don't want to take them, but some days at work, you get a headache, or your co-worker gets a headache, and you need them!
4. Scissors: When I get to work, I stash these in my pocket! A pair of scissors come in handy!
5. Stethoscope; Obviously, to assess our patients.
6. Snack; I love always keeping some nuts or bars in my bag! Something I can munch on quickly or my prepacked lunch if I get super hungry.
7. Lotion; When washing your hands and using hand sanitizer all day, it's good to have some lotion!
8. Gum/Mints, Especially when I have my night shift. It's perfect to pop a breath mint in your mouth when you're sleepy. It helps to wake you up!
9. Floss; After eating lunch, you have something stuck in your teeth, and you can't get it out! The worst feeling in the world… And it will keep bugging you until you're able to get it out!
10. An extra hair tie; Typically, when I am working, I do have my hair up away from the face, but you never know your hair tie could break, and it's just always good to have a backup.
11. Hygiene products; Also, for the ladies, a tampon or pads, Just in case 🙂
12. My badge; Trust me, if you forget your badge, it's the worst; some people like to keep it in their car, I like to keep mine in my work bag; this way I never forget to bring it in with me. (Going back to the car is not always ideal, especially if you have to park farther away for work)
13. A phone charger! It's a long shift, and trust me, it comes in handy!
14. Chapstick or lip balm, nothing worst than having chapped or dry lips all day long.
15. Facewipes; Prior to Covid-19 or not, face wipes are a must; you never know when you may get spit on, commit, or do other bodily fluids!
16. Extra socks or scrubs! I'll be honest, working at the hospital, they usually have spare scrubs or comfortable tennis shoes if I need them! But I always like to make sure I bring an extra pair of socks!
These are a top list of my favorite nurse bag essentials. I typically work 12-hour shifts, so it's good to be prepared for the long shift ahead.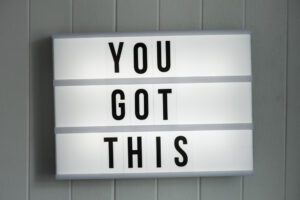 In a world full of challenges and uncertainties, it is essential to find ways to nurture our minds and souls. One powerful tool that can help in this process is positive affirmations. Positive affirmations are statements that are repeated to oneself in order to instill a sense of positivity and self-belief. By integrating these affirmations into our daily lives, we can cultivate a mindset of self-care and resilience.At its core, positive affirmations are about harnessing the power of our thoughts and words to shape our reality. When we repeatedly affirm positive statements about ourselves and our abilities, we train our
Read More »
Biggest makeup trends by season As each season rolls around, it brings with it a fresh wave of beauty trends, allowing makeup enthusiasts to express their creativity and celebrate the essence of that particular time of year. From bold, vibrant colors in the summer to warm, earthy tones in the fall, these seasonal makeup trends offer endless inspiration for creating stunning looks. In this ultimate guide, we explore the must-try makeup trends for each season and recommend products to help you achieve them flawlessly. Whether you prefer a natural and dewy look in the spring or a glamorous and smoky
Read More »
When it comes to fashion, there is no one-size-fits-all approach. Each of us has a unique body shape, and understanding how to dress for our specific body type can significantly affect how we look and feel in our clothes. Whether you have an hourglass figure, a pear-shaped body, an athletic build, or any other different body type, learning to accentuate your best features and embrace your individuality is the key to unlocking your style. Dressing for your body Dressing for your body type is key to enhancing your best features and feeling confident in your clothes. Whether you have an
Read More »